NFT hype: here are some hottest tokens making a splash
They are unique, represent digital art, and can be worth millions. NFTs are regarded as the next big thing in the new economy, as more people start to spend considerable amounts to own tokens that are, by definition, one-of-a-kind. Weird Whales is one recent NFT that has made a big splash. But it is only one of a long list of noteworthy projects.
Get Fresh: Find and Buy All the Best NFTs at VMint here: app.vmint.btcv.com
Not many people make USD 400,000 in a year. Chiefs of state, corporate executives, founders of public companies, surgeons, elite athletes, and other specialists are among them. But Benyamin Ahmed, a 12-year-old coder from London, managed to earn that much in just two months by cashing out his NFTs.
What are NFTs?
NFTs are unique digital assets stored in a blockchain. Usually, they represent art, music, video clips, and other collectibles. The word "digital" indicates that they are not physical and remain a line of code recorded on a decentralized, digital ledger. NFTs can be bought and sold, but the transfer involves ownership, intangibly attributed to a new NFT holder.
Ahmed coded the collection of Weird Whales, as he called it, which features 3,350 pixelated whales, each with distinctive features. The young coder sold his complete collection in the blink of an eye, earning ETH 80, worth over USD 255,000 at that time. He then received royalties from the resale market. By the end of August, his total earnings reached USD 400,000.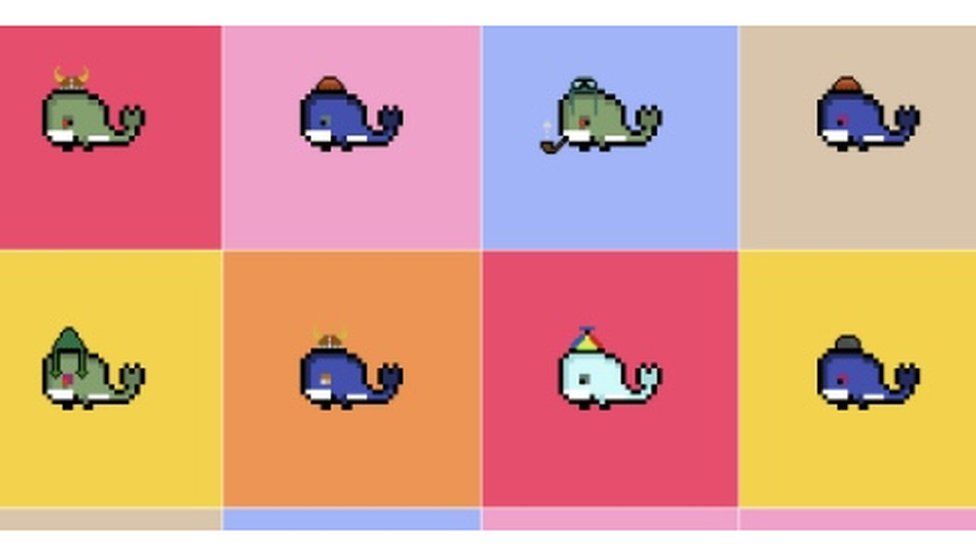 Money-making lines of code
Some may say this was only a fluke. It might be true, however saying that NFTs have flourished in recent times is also very accurate. Non-fungible tokens have been on the radar since 2014. However, some people noticed that they could make some big money by flipping them. There are over 20 NFT marketplaces, but OpenSea is considered the biggest. Its daily trading volume is USD 197 million, not including resales and secondary trades. In reality, the overall value can be much more significant.
But there is one oddity that can leave you scratching your head. If you can download a copy of the same file representing such a valuable piece of digital art, what is the point in spending gazillions of dollars on it? Well, it's all about the ownership of the work. It's something that gently tickles your vanity. Anyone can have a copy or a print, but only you own the original piece, such as Weird Whales by Benyamin Ahmed.
The collectible craze continues
Currently, digital goods are the world's hottest commodities, some selling for mind-blowing amounts. The NFT rush may seem like the 17th Century's "Tulip Mania", when people went wild over that type of flower. But the difference is that an NFT represents the true value of an item that is one-of-a-kind.
Below are some projects and releases that have captivated NFT enthusiasts recently:
CryptoPunks
Some people state that punk is dead. While this sentence might be true for music, the crypto culture proves that there is plenty of space for those who are rebels at heart. Made in 2017 by software developers Matt Hall and John Watkinson, CryptoPunks is one of the first NFTs collectibles. They represent a series of 10,000 punk-looking avatars tokenized on the Ethereum blockchain. However, being one of the first NFTs has turned into being one of the most desirable ones. Some people are ready to pay even $1 million per image. For that reason, potential buyers are solely among wealthy folks or celebrities, including Jay-Z, Serena Williams, and Gary V. Interestingly, a payments company, Visa, has also succumbed to the CryptoPunks charm and acquired one.
CyberKongz
In the motion picture, King Kong was a giant gorilla who climbed on the Empire State Building and wreaked havoc among people. In contrast, CyberKongz evoke nothing but enthusiasm. They had been created as 1,000 unique shareable gorilla pixel NFTs, which were then overtaken by the community and developed into a gamification project. Another undertaking related to CyberKongz is a Banana token. NFT enthusiasts can utilize, spend, or burn these tokens in order to breed, incubate and mint new Baby CyberKongz. Further developments are in progress, including creating Cyberkongz VX, playable 3D gorillas, producing wearables, and starting a Banana shop for these items.
The Sneaky Vampire Syndicate
Clearly, the crypto initiatives are widely inspired by the pop-culture. If there is a place for tokenized punks and gorillas, why not for the vampires? The Sneaky Vampire Syndicate is yet another bloody good project, attracting crowds of ravenous NFTs zealots. The dreadful collection of 8,888 frightening vampires, each having unique traits, can give you goosebumps.
Marvel
Marvel has also noticed the hype for this novel way of art distribution. This August, the company released its first NFT comics on VeVe. The treat featured three iconic releases, including the first appearance of Loki and The Fantastic Four.
New York Knicks
Professional sports are also making the most out of the opportunities brought by non-fungible tokens. The New York Knicks launched NFTs representing a limited edition of digitally designed 3D game tickets. The collectibles created by the NBA franchise found new owners within a day. 
Lionel Messi
Lionel Messi's transfer to PSG was enough of a sensation on its own. The legendary footballer signed a two-year contract worth USD 41 million in annual salaries and bonuses. But what really stands out is that Messi is also about to receive club tokens as a part of his payment.
Anthony Hopkins
Oscar-winning actor and composer, Anthony Hopkins shows no signs of slowing down. His fans will soon see him in Zero Contact, a movie distributed through the NFT platform Vuele. The one-and-only token linked to the film will give the owner early access to the release, becoming the first direct-to-consumer flick presented in a digital form.
BTCV
NFTs and cutting-edge crypto projects usually walk hand-in-hand. BTCV, the first cryptocurrency to allow reversible transactions, has decided to apply its uniqueness to the tokens marketplace.
BTCV has partnered with ESE Entertainment to launch the SkillzVault gaming talent show, a global esports contest for pros and beginners. To celebrate the event, BTCV created a set of NFTs featuring images of the character representing South Korea, one of five participating countries. Like hotcakes, these NFT goodies sold out in no time. 
Final thoughts
As the demand for NFTs soars, so does the amount people are willing to pay for them. They get unique pieces of art, gaming and sports memorabilia, or recently produced movies in exchange for their crypto. For the creators, NFTs are a brilliant way to monetize their hard work, effort, and achievements. At the same time, non-fungible tokens deliver the ownership of the work straight into the hands of those who want the pride of having something – literally – unique.
For more information about Bitcoin Vault BTCV subscribe for Bitcoin Vault BTCV newsletter
and follow Bitcoin Vault BTCV official channels: